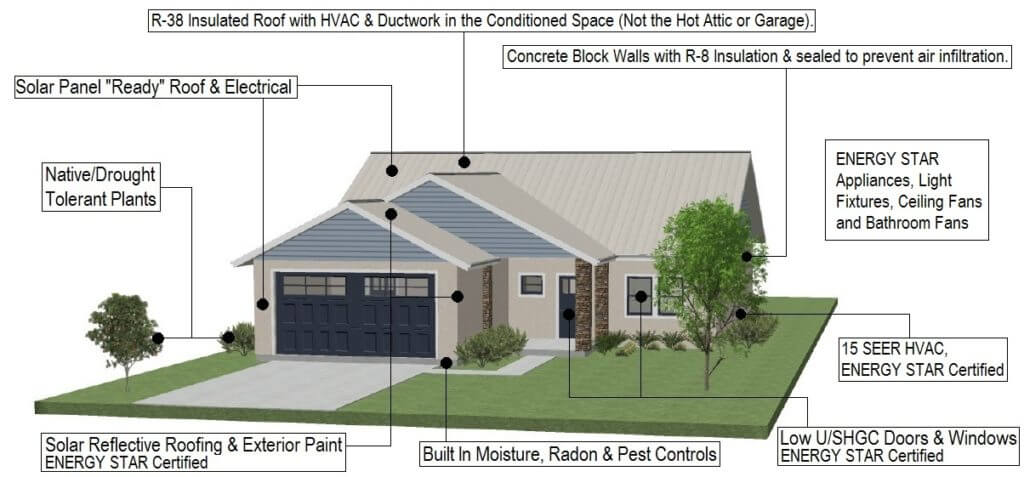 We've seen the future of home building and it's got one thing in common: zero. As in Zero Energy Ready Homes. This type of home, which outperforms standard buildings and delivers the opportunity for ultra-low or nonexistent energy bills, is also an exciting growth industry. While a relatively small percentage of home builders are constructing them today, their popularity will likely keep rising as their success becomes well known.
In plain English, a zero energy home is not just a "green home" or a home with solar panels. Zero energy homes are ultra-comfortable, healthy, quiet, sustainable homes that are affordable to live in. They are regular grid-tied homes that are so air-tight, well insulated, and energy efficient that they produce as much renewable energy as they consume over the course of a year, leaving the occupants with a net zero energy bill, and a carbon-free home.
So… How realistic is this? How will it affect builders? Why should they care? And, will builders comply?
The short answer is yes, and here's why: Consumers will demand it.
That was the take-away message during Sam Rashkin's informative session, "Tapping into the DOE: Best Practices for High Performance Homes" at the 2017 IBS Builders Show in Orlando.
In short: Consumers are becoming more informed thanks, in part, to technology. Smart phones and apps are changing the way consumers shop, buy and/or build a home.
Take Wi-Fi thermostats, like Nest, for example. More than simply adjusting the temperature in your house when you turn the dial or press the buttons, Wi-Fi thermostats allow you to monitor your energy usage, easily program daily schedules to save you money, and some can be part of an integrated smart home system working in tandem with security systems, automated lighting and more.
How about infrared, thermal cameras? Ten years ago, only home inspectors had access to these expensive tools. In the very near future, smart phone apps will allow Realtors and buyers to physically see thermal defects, water damage and moisture problems with the snap of a photo.
According to Rashkin, that's only the tip of the iceberg. More educated consumers demand more tactical information. Buyers will demand HVAC quality and Indoor Air Quality scores. Utility bills for any given home or area will be searchable online. And HERS scores will become part of the MLS structure, much the way energy efficiency is used to market homes in Europe.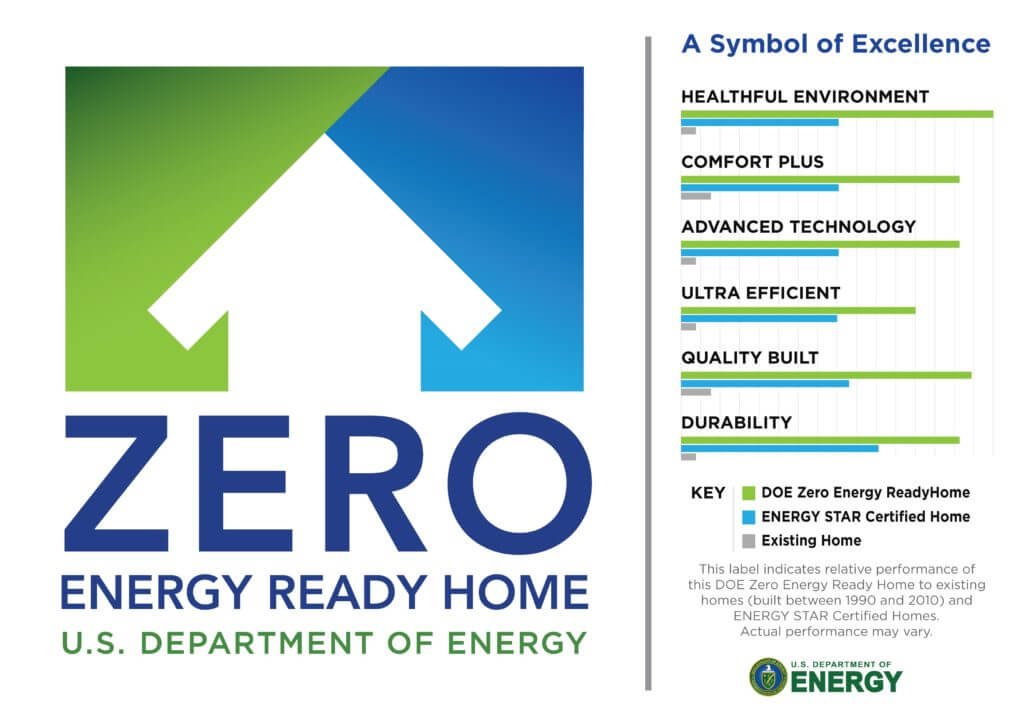 WHAT MAKES A ZERO ENERGY READY HOME DIFFERENT?
The U.S. Department of Energy's Zero Energy Ready Home program builds on the requirements of Energy Star for Homes Version 3 in order to give builders stringent guidelines that will help to make homes more energy-efficient and improve air quality. Indeed, if you are already building ENERGY STAR Homes and are familiar with the EPA Indoor airPLUS program, you probably already know 70 percent of the DOE Zero Energy Ready Home program. Building at 2012 IECC codes or, in the case of California's Title 24, then you are 85 percent Zero Ready.
To be a Zero Energy Ready Certified building, homes need to:
Include energy efficient appliances and fixtures

Have windows that meet ENERGY STAR v5.0 and v6.0 specifications (depending on climate zone).

Comply with EnergyStar checklists for thermal enclosure, water management, HVAC quality installation, and target home size adjustment factor

Have insulation that meets 2012 International Energy Conservation Code levels

Follow provisions from the

Consolidated Renewable Energy Ready Home checklist

to ensure future cost savings on solar installations

Follow

Indoor airPlus

specifications to achieve high indoor air quality

Conserve water and energy by using systems that provide rapid hot water

Ensure proper ventilation using ducts and systems such as

ERVs or HRVs
The DOE Zero Energy Ready Home checklists provide links to technical guides for each measure included in the checklists for DOE's Zero Energy Ready Home National Program Requirements.
TIPS AND TECHNIQUES FOR BUILDERS AND CONTRACTORS
Technically speaking, builders are employing the following techniques to reach Zero Energy Ready:
Zero Energy Ready Homes generally have walls that are framed wider and studs that alternate in a zigzag pattern to avoid "thermal bridging", a situation where energy easily escapes.

Constructing "California corners" allows for more insulation to be placed in corners of rooms, eliminating cold dead spots and energy leakage.

Windows and doors are of highest quality.

Homes are extremely airtight, but have state-of-the-art ventilation systems that control air quality, heat and cooling.

Pre-cast foundations are exact and strong, and slabs are completely detached from the earth.

To maximize energy efficiency and improve home performance, these homes used unique construction methods such as structurally insulated panels (SIPs) wall and roof systems, exterior fluid-applied air barriers, and insulated concrete forms (ICFs).

Grid-tied solar photovoltaic (PV) panels currently provide the most cost-effective form of renewable energy for a zero energy home. They can power all the energy needs of a home including lighting, heating and cooling systems, appliances and hot water. However, they are the most expensive component of a zero energy home and strategies for reducing or mitigating those costs are important to consider.
Many legitimate green builders practice similar ideas today, but it's the "ready" in Zero Energy Ready that really takes this program into the future. For example, while building a new house, wiring, conduit and plumbing are added for future solar photovoltaic and water heating panels if the homeowner decides to go in that direction down the line. Having the house prepared for future energy saving technologies saves time and money later. Still not sure what that looks like? Take a virtual tour of the award-winning homes independently certified to meet DOE Zero Energy Ready Home.
If you're a builder or contractor, tell us what you think about Zero Energy Ready Homes via Facebook or LinkedIn. What tips or techniques are you using to move toward these new standards?